Digital marketing is a vast concept. And people misunderstand it as being a single concept which is an advertisement of products and services and all the marketing activities on online platforms. Well, this is not something wrong but the reality is – that digital marketing is an umbrella term that includes many other branches of it. If you're someone who wants to start a career in digital marketing then this article is for you. Why? Because here you are going to learn about the different types of digital marketing.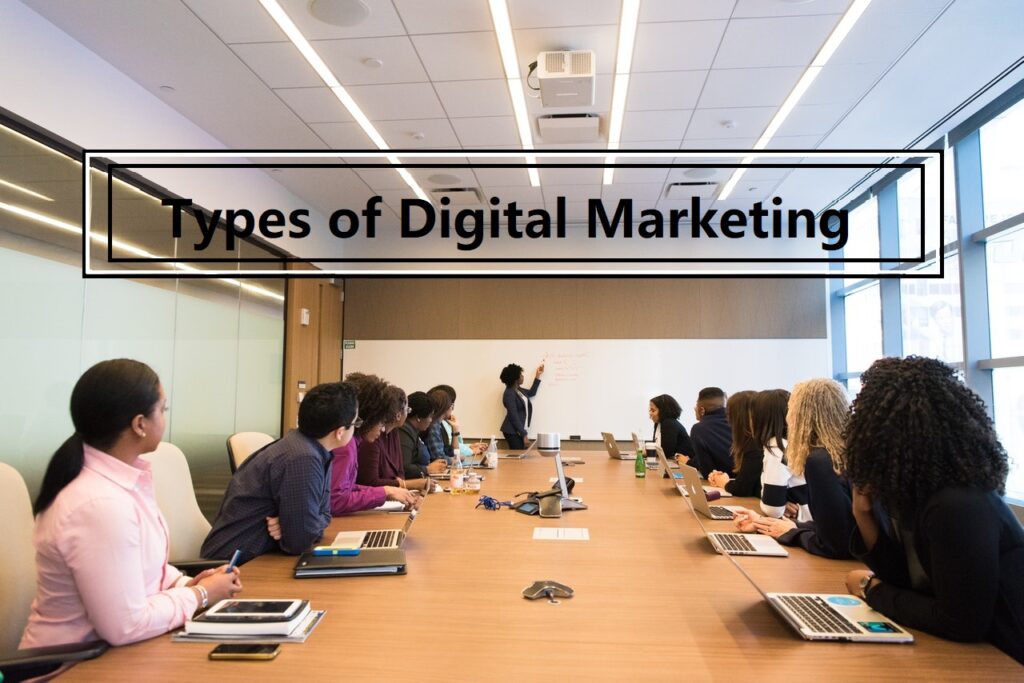 So, here is a gist of this article and the types of marketing you're going to learn. Just have a look at the list below:
Search Engine Marketing
Social Media Marketing
Content Marketing
Influencer/Affiliate Marketing
Email Marketing
Mobile Marketing
These are the most significant types of digital marketing. Let's start talking about them one by one below.
Types of digital marketing
⋙ Search Engine Marketing (SEM)
The first online marketing you need to look at is – SEM. Let me tell you that SEM is another broad term that includes PPC (Pay Per Click) and SEO (Search Engine Optimization) together. SEM is basically all about getting a website presence and make it to the top of Google's SERP. So, when someone searches about your brand, he gets relevant information about the same. SEM is all about getting natural and organic traffic to the site. Let's talk about SEO and PPC below.
SEO – it is a process of optimizing the overall website to get high visibility, traffic, and ranking of the site on Google. With good SEO, anyone can get high traffic to the site. And you can do SEO with content only.
PPC – It is paid search advertising. For example, Google Adwords or Bing Ads. Well, it almost looks like the organic search result. PPC can do wonders for you if you're ready to pay for it.
So, this is all about SEM marketing you just read.
⋙ Social Media Marketing (SMM)
As the term suggests, you market your brand on social media platforms. With platforms like Facebook, Instagram, Twitter to name a few, you can promote your product hereby organic ads or paid ads. so, the businesses that are in online marketing have to invest time, effort, and money in social media marketing in order to grow their followers and reach in the market. There's no harm in being on social media. At least every business should be on one or two social media platforms to provide information to visitors and customers.
⋙ Content Marketing
This is easier to guess because the content you're reading right now is a part of content marketing which comes in digital marketing. This concept involves distributing content, text, pictures, multimedia, and videos that add value for your audience in lieu of broadcasting and advertising message. In fact, content is extremely versatile that can help build brand awareness in the market globally. Content can educate, engage, and impart knowledge to your audience. So, make sure you produce relevant, authentic, unique, and engaging content for your audience. Also, you can avail of content marketing services from a renowned agency.
⋙ Influence/Affiliate Marketing
Both these marketing work when you're in power or have a large fan base or a huge number of followers on social media. This way you can get success in this marketing field otherwise you can approach an influencer to get your work done. Influence and affiliate marketing have become quite popular in recent years due to social media sites like Instagram and YouTube. Moreover, both the marketing help in fetching you high traffic, recognition, and popularity of the product in the market.
⋙ Email Marketing
The perception about email marketing is that it is considered to be an outdated approach but nothing is like that. Marketers still use email marketing in their business to connect with customers on a more personal level. If any products get launched, marketers can easily let their customers know about the same via email. They can inform their customers about the campaign they're running about any product or anything which is useful for the customers. With email, you can stay in touch with your customers on regular basis.
⋙ Mobile Marketing
Last but not least type of digital marketing is Mobile Marketing. Today, mobile has become the most indispensable part of our life without which it's hard to even live. It's all about doing everything on mobile rather than on desktop or laptop. Marketers now focus more on developing apps, mobile-friendly websites, and engaging content to target audiences through mobile. Therefore, mobile becomes a medium to target younger audiences more than older ones.
Summing up
So, here ends the list of different types of digital marketing that every online marketer or start-up should know. I hope, you have read each and every type mentioned above thoroughly and understood the concept well. Moreover, all types of marketing are important you have to work on each and every type of marketing to establish your business in the market globally.
Even if you have any doubt or query regarding any marketing just get in touch with us.