Are you struggling to make your social media marketing strategy successful? Are your efforts on social media does not seem to produce any positive results? Then this article is just for you.
Social media marketing is no longer a 'unique stuff' that people went crazy about in the past. This is because brands and Digital Marketing experts realized the importance of social media in the marketing domain pretty soon. And now you can find millions of brands and marketing experts working on social media. This changing and growing landscape of social media platforms is making it difficult for business' to stand out from the rest. They are facing challenging situations to get the most out of social media marketing.
To deal with these challenges many brands are turning to AI. Artificial Intelligence or AI includes various technologies like machine learning, voice recognition, image recognition, natural language processing and deep learning. Brands are using AI-based technologies to collect and analyze real-time data which they use to improve their marketing campaign strategies.
In today's article, I am going to tell you about the advantages of AI in social media marketing and how you can use AI effectively to improve your marketing strategy.
Let's dig right in
Ways to leverage AI in social media marketing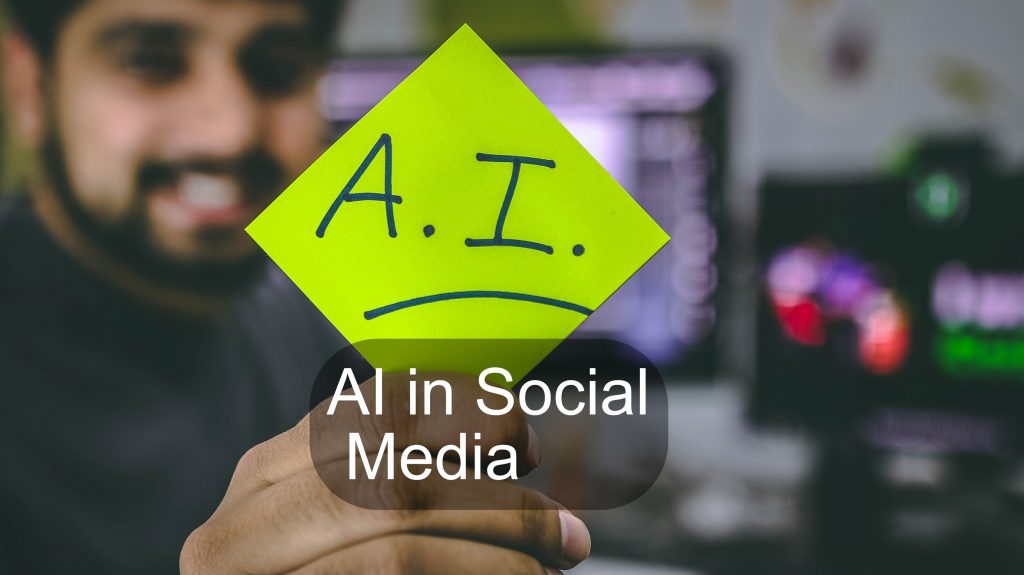 With almost 4 Billion users, social media is the biggest place to promote a brand and their products. The combination of social media and AI is even more advantageous.
How?
AI in social media market is estimated to grow up to $2.2 Billion by 2023 with a CAGR of of 28.3 % from 2018 to 2023. There are many benefits of using AI in social media marketing
Better user experience
Increased user engagement
Higher efficiency and productivity
Streamlined marketing and management process
Important insights about behavior of user
Refined content targeting
Smarter marketing with enhanced performance insights
Reduced marketing costs
Greater ROI
Now let's see how you can leverage AI in social media marketing to produce better results.
Related article: How to gain traffic from Instagram- 7 tips to follow
1. By employing AI chatbots
AI chatbots is the current trend in the realms of internet. AI chatbots are bots that help customers by answering their questions and queries. It is very popular among audience, about 56 percent of the users like to interact with the chatbots to ask questions, report inconvenience, and get resolutions. This is because AI-powered chatbots provide quicker, smarter and fast solutions to audience's questions across various platforms.
As far as social media is concerned, AI chatbots are not limited to websites. Now they are extensively being used in social media apps like Facebook messenger, WhatsApp and more. These chatbots decrease the waiting time for customer requests. It can retain customer data so that customers don't have to repeat giving the information.
Chatbots improves the overall customer experience which means a lot to a brand. They are preferred because they provide 24/7 support to the customers, interact with prospects and even make the recommendations and bookings for them. Hence, AI Chatbots are really effective for improving the social media marketing.
2. AI can improve visual content strategy
As we know social media is a visual medium and hence it is very crucial for brands to put out effective visual content. But now a days, with thousands of content being produced everyday how one can make sure that their content performs well. The answer is by using AI. How? First of all, you should know that certain sort of visual content performs better and create more engagement than others.
Now what AI does is that it analyze trends and predicts how your followers will react to images and videos based on their composition, subject, texture, color palette and more. In other words, analyzing the performance of the visual content before posting that on social media.
These analysis gives you the insight to make out the visual content that will attract the audience most and the content that audience will resonate with and based on that you can improve your content, its reach, impressions and engagement.
3. AI helps you to measure the customer intelligence
It is very important to understand the level of your customer intelligence. To find out their identity, their needs and preferences and the way they are looking for the information. Well, it is next to impossible to collect and analyze the needs and behavior of thousands of followers manually whereas AI can do that very quickly and effectively. AI together with machine learning can help you collect and analyze the social and behavioral data to get a more clear and accurate understanding of your customers.
You can find out the products that your customers are most likely to buy and hence according to that you can guide the users so that they can make a purchase. You would be able to put out more engaging content for your audience when you have an idea about your customer's psychology and behavior. All of it will help you adjust your social media marketing to make it better which will boost your engagement and ROI.  
4. Boost your sales with AI-Augmented Reality (AR)
If you want to boost your sales then the combo of AI and Augmented Reality is the most promising technology for that. Augmented Reality technology allows the users to have a virtual try-on experience of your products on the social media apps.
Why people like offline shopping because they can try whatever they want to buy, and the chances are always high in physical shopping because the customer know how does the product actually looks on him. Augmented Reality try to create that scenario virtually. This boost the chances of making sales online. This trend surely help brands boost their conversions and sales.
5. AI helps in tracking and measuring the campaign
This process is very important for any marketing strategy. Without tracking and measuring the progress of the marketing campaign, you can not make the required adjustments in your campaign. With the help of AI technology, social media platforms like Facebook and Instagram provide the Analytics to track audience engagement and recognize the top-performing posts and Hashtags.
You can also find out the time when your audience is most active and engaged. These AI based Analytics allow you to identify the most engaging content, ad copy getting the maximum number of clicks and sales, maximum share and liked posts, contribution of influencers to your brand in terms of engagement and sales.
Summing up
AI is an evolving technology. We are witnessing many usages of AI in the technology domain, marketing domain and more. In order to make a unique place for your brand on social media, you must consider using AI in your social media marketing. It will only improve your marketing strategy by producing great results. It will boost your brand awareness, engagement and sales as well.
For more interesting and informative articles, just get in touch with us.