Mobile era is what we live in today. We all use mobile devices to access anything from anywhere. Right from the calling, messaging to making online purchase everything we do is possible via mobile. Gone are the days when one could use desktop or heavy laptops to access any website or product online. With 5.27 billion people using mobile phones today, Google has also started to give importance to sites that are mobile-friendly in digital marketing landscape and thereby more priority is given to this than desktop indexing.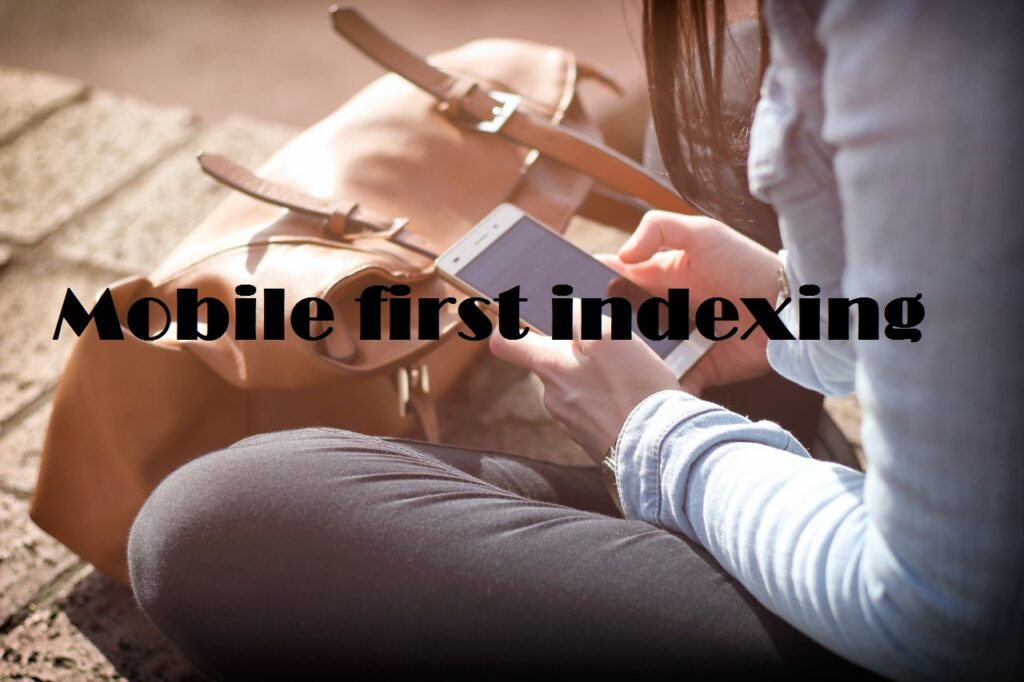 If you're new to mobile first indexing then this article is for you. Here I will talk everything about mobile first indexing. If you have a website and want to rank it on top of Google's SERP then continue read this article till the end.
Let's start from scratch.
What exactly mobile first indexing is?
Simply putting, mobile-first indexing means that the phone version of your website becomes the starting point for what Google includes in its index. In other words, Google determines the mobile version of the content for indexing and ranking. This way Google determines your site ranking. Let me tell you that fact here – Google announced mobile first indexing back in 2016. And by March 21, Google's aim is to roll out mobile-first for every site.
Let's dig deeper and talk about the important things below.
Important things you must know about mobile first indexing
To thoroughly know everything about mobile websites, make sure to read all the given points.
➦ Does Google only use mobile site to determine ranking
You might have this question whether Google determine ranking on the basis of desktop website or mobile site. Let me tell you that mobile first only means that Google gives priority to mobile-friendly websites and the mobile version is considered to rank website. But if your site doesn't have mobile version of page then the desktop version can be taken into consideration.
➦ Do a mobile friendliness test to…
Check whether your site is accessible for mobile first index or not. Don't forget that if your site is not mobile friendly then it will be harder for you to rank your site on the top. Therefore, make sure to check the mobile friendly test of your site with Google mobile friendliness tool. So, if your site doesn't pass this test, it means your site isn't up to mark for mobile first indexing. Just learn from experts how you can improve your site for mobile first indexing.
➦ Website speed does matter in indexing
No one wants to waste their time while accessing websites that doesn't get upload within 2-3 seconds. Since the beginning of the internet, users want to continue faster websites. That's why speed of the website continues to be a significant ranking factor. Moreover, slow page speeds have negative impact and increase bounce rate of the website. In fact, this will take a lot of time to generate conversion rate of the website. So, try to focus on your website speed as well and improve it.
➦ Produce relevant content
Content plays a great role in ranking the website on Google and also is a best practice for SEO. Relevant content is very important especially in mobile first indexing. Today, users intent for search queries constantly changes therefore you have to ensure that the content you produce should meet the requirements of the users who're searching for query on Google. The authentic, relevant, unique, content you produce, the better is for your mobile first indexing.
➦ Your website should provide same experience on desktop and mobile
What usually happens is that web developers focus on site to provide better user experience, which is great. But the problem arises when desktop version of website shows something else and mobile version something. This actually causes a lot of problem for mobile first indexing. For this, Google says that a website should provide the same experience across both mobile and desktop devices and that is very important when it comes to content particularly.
As per mobile first guidelines, "If your mobile site has less content than your desktop site, consider updating your mobile site so that its primary content is equivalent to your desktop site. Almost all indexing on your site comes from the mobile site.
The end
Guys, mobile first indexing is very important if you want to touch the internet sky and fly without falling. Not only does mobile first indexing provides better user experience but also helps Google index your site quickly. Now that you have read this article, I hope you're ready to make your site mobile friendly and become eligible for mobile first indexing. Also, keep an eye on Google updates as Google keeps on updating algorithm which makes an impact on website.
If you have any query or a question, just get in touch with us. We will help you with that.