Video is an extremely effective marketing tool. And one of the key benefits it provides is audience engagement like nothing else. Not sure how that works? Then read on and find out how video marketing helps in audience engagement.
If a picture is worth a thousand words then one can only wonder what a video is worth. Video has emerged as a very powerful marketing tool. This explains why more and more people are making it a part of their marketing strategy.
YouTube, the biggest video discovery search engine has more users than most search engines. In fact, it is the biggest after Google. This explains how many use it as a substitute to search engines for certain search intent. Moreover, there's been an insane rise in the popularity of short videos. And hence, video app development has become quite common which makes it easy for people to make interesting video even without much technical knowledge. And not to mention how video marketing is now inseparable from social media and influencer marketing to engage audience.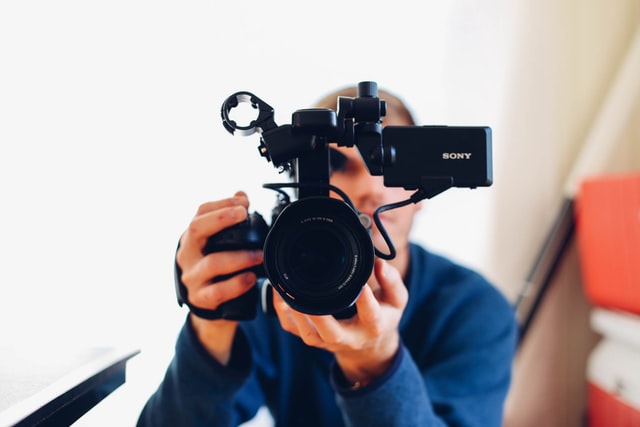 Hence, video marketing is greatly beneficial for audience engagement. Wondering how? Let's talk about that in elaborate.
This is how video marketing helps in audience engagement
>>People love watching videos
One of the biggest plus points of video marketing is that with this, you give your audience what they already love—videos. Most people would prefer it over emails, newsletters, blog posts, social media posts, and other digital marketing channels. Hence, their willingness to engage with video content would naturally be higher than that when engaging with other type of content.
>>Consumer use it for research
When researching a product, service, brand, or business, people use several methods. They could be looking it on the internet with the help of the search engines, visiting the company's website or checking out the company's social media handles. And one of such methods is watching videos—which is a very popular means. In fact, after Google, YouTube is the biggest search engine. Many people would straight up go to YouTube when searching a brand or a product. Hence, with this, you can target such people and apparently enjoy higher audience engagement.
>>It is more convenient for the audience
While only reading or listening, one has to focus their senses on the content. This can at times become discouraging. One of the main reasons why people love watching videos so much is because it is more convenient for them than to consume any other form of content. The audio just plays and the visuals just move in front of your eyes—and without you requiring any efforts, the whole message is received by you. Therefore, people find it better to engage with videos.
>>Videos have the most potential to be entertaining
With the right combination of music, sounds, images, and even text, you can create very engaging videos. In video making, there is the most potential to produce entertaining and fun content. Now with many video making apps available in the market, one can easily make engaging videos by manipulating its different elements. And a great thing about such apps is that even people with minimal technical knowledge can use it. Hence, video marketing makes it easier for businesses to produce engaging content.
>>It rules the influencer market
Video is doubtlessly the king of content in the influencer market. Most social media influencers use videos to engage with their audience. Hence, video marketing is an inevitable part of influencer marketing. Therefore, by having an effective video marketing strategy in place, you can even improve your audience engagement in influencer marketing channels.
>>Video is an important social content
Video is an important social content. No social media marketing can realize its best potential until it uses video. So since video is such an important part of social media marketing, having an effective video marketing strategy for your social media in place can help improve it by leaps and bounds—specifically in the terms of audience engagement. And this is how video marketing improves audience engagement on social media.
>>Tweak your email marketing
It has been found that emails which direct the receiver to videos get better response than those leading to other content types. So much so that just even mentioning the word 'video' in one's subject line yields a way higher open rate in emails. Hence, video marketing can even help a business improve audience engagement through emails.
>>The rise in trend of short videos
There's been an insane rise in the trend of short videos. People love to engage with short videos be it making or creating them. Hence, the number of short video platforms like TikTok is multiplying. In fact, the most popular apps like YouTube and Instagram have their own versions of short video platforms—YouTube Shorts and Reels respectively. And since they introduced these features, the said apps have experience a rise in usage and engagement. Simply put, short videos are insanely engaging. Hence, video marketing with a focus on short video can be really helpful for a business to engage their audience.
Key Takeaway
Video marketing can be extremely helpful for a business to engage their target audience. Hence, video is such an important part of present day digital marketing. And as you will understand from the points given above, video marketing can also help improve various other marketing channels like influencer, social media, and email marketing. Therefore, if you haven't made video a part of your marketing strategies yet, it is time you do now.